Arista Networks announced on Tuesday a new switch that supports 400 Gigabit Ethernet. The new 400G fixed system targets ultra-large-scale cloud networks and data centers that require more bandwidth for technologies such as artificial intelligence (AI), machine learning, and serverless computing.
In 2013 and 2014, Arista first achieved 100G on its 7500E and 7280E switches. In 2015, Arista released its 7060X series, a 32x 100G switching platform. The latest product 7060X4 (400G switch) is the third generation of the 7060X series.
The throughput of the Arista 7060X4 series is four times that of Arista's previous 100G platform, and its power efficiency is twice that. The new series also offers backward compatibility with 100G ports. This gives customers the flexibility to build high-density leaf-spine networks, including 100G connections to servers and 400G connections to leaf-spine architectures. Arista pointed out that each 400G port can be divided into four 100G ports, and a 1U chassis can support up to 128 100G ports.
The new platform is based on Broadcom's 12.8 Tb/s Tomahawk 3 chip.
"The Broadcom Tomahawk 3's 7060X4 is based on an upgraded version of the existing 7060X series, all based on the Broadcom Tomahawk chip, ensuring architectural consistency and enhanced functionality, which is valuable for ultra-large-scale cloud operators and allows migration to 400G with minimal disruption. "Martin Hull, vice president of product management for Arista Regional Cloud and Platforms, said.
In addition, Arista has improved its EOS traffic management and load balancing.
Arista CEO Jayshree Ullal said in the fourth quarter of 2017 with an investor's earnings conference call that "400 gig is very important in some use cases. It will take many years for the 400-gig market to become mainstream. I believe the initial The test will be conducted in 2019."
Now, Arista predicts that 400G sales in 2019 will be relatively low. But the company quoted Dell'Oro Market Research's forecast that 400G will grow significantly from 2020 onwards.
In July of this year, Juniper said it plans to inject 400G innovation into its routing and switching. Juniper plans to launch updates in the second half of 2018 and the first half of 2019.
Arista said the price of the new switch will be less than $1,800 per 400G port. The 7060X4 series is available in two configurations, supporting OSFP and QSFP-DD 400G optical modules. The OSFP configuration will be available in Q4 and the QSFP-DD configuration will be available in early 2019.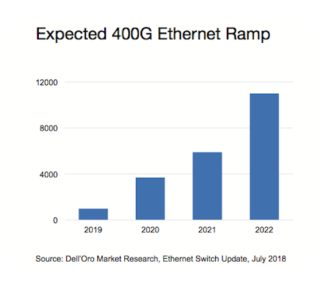 Original Article Source from https://www.sdxcentral.com/articles/news/arista-networks-introduces-400-gigabit-ethernet-platforms/2018/10/   Author:Linda Hardesty