Cisco has been at the forefront of global network equipment technology as a leading provider of Internet solutions for the new product line of the 90 series recently launched by Cisco. The new 90-series switch is another masterpiece of Cisco's launch following the success of the 100 series. We tested its new Cisco SF90D-08 and Cisco sf90-24 two switches, respectively. Now let's get to know the next 90 series switches.
In today's society, if you want to maintain your business advantage at all times, you must ensure that the network environment runs smoothly. This means having a highly reliable network to connect computers, printers , copiers and other office equipment . But if your business is similar to most small and medium-sized businesses, then in general, the company does not have a dedicated IT staff to set up the corporate network. With the Cisco 90 Series Switch, you can now have a high-performance, enterprise-class office network. These devices are easy to use right out of the box.
The Cisco 90 Series switches are easy to operate and provide strong network performance and reliability for small and medium-sized businesses. These switches do not meet the high expectations of users for Cisco products, providing all the features, scalability and investment protection that users expect. These devices do not require software to be installed and do not require any configuration. Simply plug in, connect to your own computer, and other commercial devices to run.
The Cisco 90 Series has always been known for its affordable price and ease of use. It is a switch for small and medium-sized business networks that works without any configuration. Let's take a look at and test the Cisco SF90D-08 and Cisco SF90-24 switches.
As the name implies, the difference in appearance between 08 and 24 is that one is an 8-port 100-megabit switch and the other is a 24-port 100-megabit switch.
Cisco 90 Series Switch Features Introduction
Cisco 90 Series Switch Features and Benefits:
1, easy to use: Cisco 90 series switches are ready to use, no software installation, no configuration. As a standards-based Cisco solution, the Cisco 90 Series switches are also out-of-the-box, providing native support for all user network devices .
2, automatic cable detection, so that users do not have to worry about the wrong cable type.
3. Compatible with network equipment of other manufacturers.
4. Simple installation: Cisco 90 series switches are designed for small office environments. Desktop switches are available with wall mount options that can be mounted independently to the wall below the table or to the wall of an office or conference room.
5. High Performance: The Cisco 90 Series switches deliver the performance users need to run commercial applications and avoid slow and unresponsive network speeds. These commercial applications also include video services that require high bandwidth.
6. Reduce electricity costs: The Cisco 90 Series switches are designed to optimize power consumption and save energy without sacrificing performance. Terminating equipment does not work in the case of automatic sleep port; port will terminating apparatus according to the cable automatically adjust the power supply cable length. In addition, these switches are not equipped with fans, so they can operate quietly and quietly while reducing the cost of electricity.
7. Support for advanced technologies: All of these switches feature advanced Cisco traffic processing to ensure that applications running by users are always at peak performance. Integrated QoS intelligence automatically prioritizes latency-sensitive services such as voice or video to improve user network performance. Fast store-and-forward switching finds corrupted packets and prevents them from continuing to propagate through the network. All of these features are automated and do not require management or configuration.
8. Peace of Mind: The Cisco 90 Series switches meet the expectations of Cisco switches for rock-solid reliability. The solution has been rigorously tested to ensure optimal system uptime and performance.
We use the special test software Ixchariot test to test the throughput of the two switches. We let the two computers perform the peer-to-peer transmission test. In order to achieve the purpose of testing the 100-megabit switch, we transmit 10 processes at a time, let The device is fully loaded and full of bandwidth.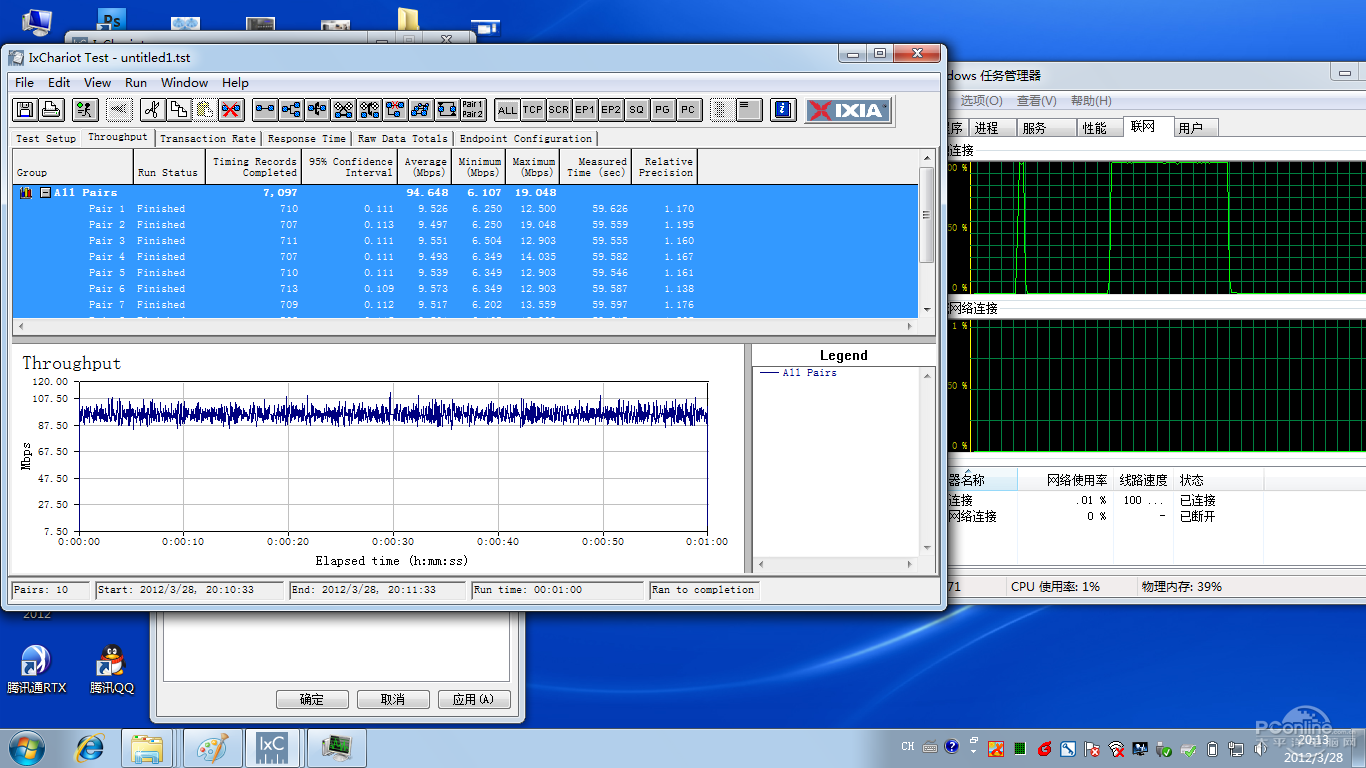 Cisco SF90D-08 Throughput
Cisco SF90D-08 Throughput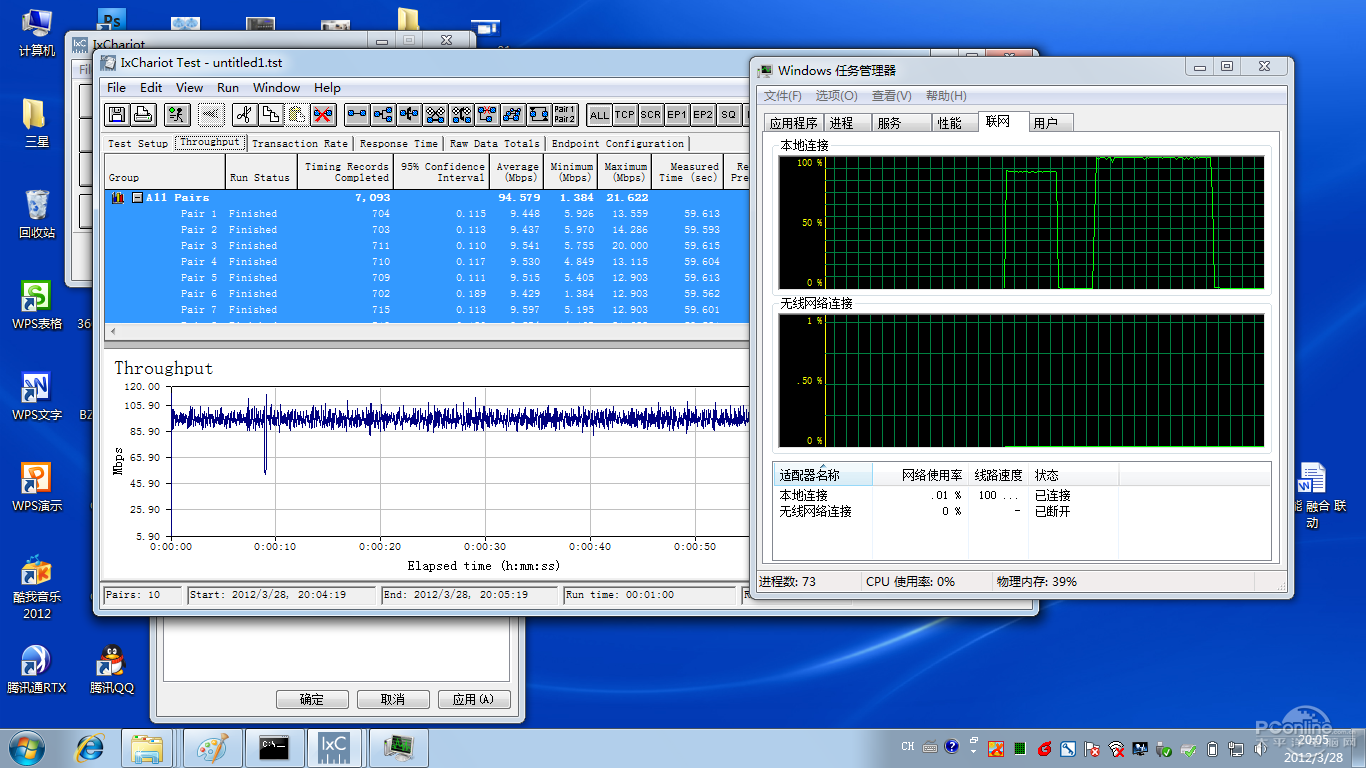 Cisco SF90-24 port throughput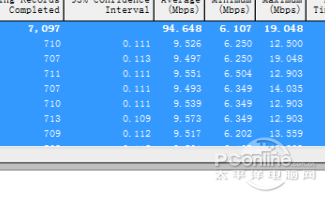 Cisco SF90-24 port throughput
The test results show that the throughput of the Cisco SF90D-08 port is 94.579m, and the throughput of the Cisco SF90-24 port is 94.648m, which basically meets the requirements of the 100M switch, and the utilization effect is satisfactory.
Overall, the new Cisco 90 series switches, the test results are still satisfactory, the appearance of the atmosphere, excellent performance and low energy consumption are the selling points of this switch. It is a good choice for small and medium enterprises.
Summary
As part of the Cisco Small and Medium Business Networking Solution, the Cisco 90 Series Switch is designed to meet all office environments and optimize power efficiency. These products use less power, but provide robust, reliable networking performance to meet the business needs of users. All of this is included in a single switch, and users can complete the switch installation in just a few minutes. As an enterprise-class low-cost network solution, the Cisco 90 Series switches bring proven reliability and investment protection for Cisco network solutions to small and medium-sized businesses.